"Ghost Gardens" is an installation situated in a vacant shopping mall warehouse, features an array of damaged digital tablets mounted to the wall and a "garden" made of concrete debris and tarpaulins. The tablets with broken screens, sourced from second-hand electronics shops, display fragmented text from the Sakuteiki, an old Japanese manual on garden design, particularly rock arrangements and their taboos. The texts, spoken by artificial intelligence narrators, produce a layered auditory environment with the intermittent repetition of the Japanese word 'rock', mapping the visual noise characterized by the repeated presence of rocks in the installation.

The concrete pieces are arranged in the installation in island-like formations, each consisting of a large central piece and smaller pieces surrounding it. Resembling rocks yet hollow within, the tarpaulins mimic natural forms while echoing common visual motifs in urban environments. Evoking construction-related activities like temporary coverings, storage, and protection, they reflect the dynamics of Tokyo's swift urbanization and gentrification, characterized by rapid cycles of demolition and reconstruction. This context combines with the ambient sounds of Sakuteki's teachings on the rules and prohibitions of stone arrangement.

The concrete pieces in the installation come from a Tokyo recycling facility specializing in leftover demolition material. Chosen with the same meticulousness as rocks for a traditional garden, each concrete piece in the installation carries its own memory from various Tokyo structures, contributing to a temporary garden that highlights the aesthetics of the everyday.


Supported by SAHA ASSOCIATION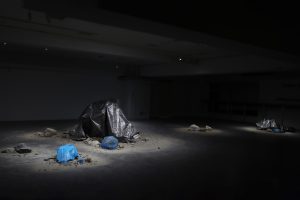 Buşra Tunç + Kerem Ozan Bayraktar, 《Ghost Gardens》, 2023, installation with concrete rubble, tarpaulin, mixed material, tablets and sound.
SOCIAL DIVE: Artist-in-Residence Projects
For the SOCIAL DIVE Artist in Residence Projects, an open call program that was held in the previous Tokyo Biennale 2020/2021, twelve overseas artists were selected from over 1,535 applications. However, the projects of seven of those artists were postponed due to the effects of the coronavirus.
For Tokyo Biennale 2023, we plan to invite the artists who were unable to come to Japan to present their works. The artists will "dive" into various areas of the Tokyo cityscape, observe the charm of people who live and gather there, and generate new values. While interacting with society, the artists will come to reveal various connections latent in the city. These connections may offer unexpected perspectives for those who live and work in Japan today, or viewpoints that are all too familiar for its inhabitants to notice.
Activities
Research and presentations in Tokyo, talk events, etc.
Schedule
| | |
| --- | --- |
| September 1 – October 1 | Artist stays in Tokyo for production |
| September 23 – November 5 | Exhibition of results |
Related Information
The artist talk at LIVE RELATIONS! vol.01, DAY1, 2021 (with Japanese-English interpretation)
Moderated by Yoshitaka Mori, Director of RELATIONS.