GENERAL INFORMATION
Held every two years, the Tokyo Biennale is an international art festival that sets the city of Tokyo as its main stage. The festival aims to dig deep into the city, as it is created together with the area's local citizens, as well as a wide variety of artists and creators from around the world.
Name

Tokyo Biennale 2023 - An International Art Festival Originating in Local Areas of Tokyo
Theme

Create Linkage
Period

Summer Period: July - September 2023 (public project process, at designated times only)
Fall Period: September 23 - November 5, 2023 (exhibition of results)
Venue

Across the 4 wards – Chiyoda City, Chuo City, Bunkyo City, and Taito City – of the Northeastern area of central Tokyo. Historical architecture, Public place schools, Rooftop of shops, Idle facilities (both indoor and outdoor).
Organizer

General Non-Profit Incorporated Organization Tokyo Biennale
Endorsement

Chiyoda City, Chuo City, Bunkyo City, Taito City, Chiyoda City Tourism Association, Chuo City Tourism Association, Bunkyo City Tourism Association, Tokyo University of the Arts, Embassy of Iceland, Tokyo, Embassy of Italy in Tokyo, Australian Embassy Tokyo, Embassy of the Kingdom of the Netherlands, Embassy of Canada, Embassy of the Republic of Singapore in Japan, Royal Thai Embassy, Tokyo, Embassy of the Federal Republic of Germany in Japan, Embassy of Türkiye, Tokyo, Embassy of New Zealand, Tokyo, Embassy of Brazil, Tokyo, Embassy of Belgium in Tokyo
Special Support

Ishibashi Foundation
Support

Arts Council Tokyo, Tokyo Metropolitan Foundation for History and Culture, Chuo City Cultural Promotion Grant Program (Chuo Cultural and International Exchange Association), SAHA Association, EU-Japan Fest Japan Committee
Special Sponsor

Mitsubishi Estate Co., Ltd.
Sponsor

Mitsui Fudosan Co., Ltd., Daimaru Matsuzakaya Department Stores Co., Ltd., Daimaruyu SDGs ACT5 Project, Nomura Real Estate Hotels Co., Ltd., New Balance Japan, Inc., Asahi Group Holdings, Ltd., Seven & i Holdings Co., Ltd., Toyo Seikan Group Holdings, Ltd., YKK CORPORATION, S&B FOODS INC., Dai Nippon Printing Co., Ltd., Do Creation Co., Ltd., Toppan Inc., FamilyMart Co., Ltd., Lawson, Inc., MYSTAYS HOTEL MANAGEMENT Co., Ltd.
Corporate Partner

FSX, Inc., TOKYO DOME CORPORATION, OMY Landlord Council, OMY Area Management Association
Special Cooperation

East Japan Railway Company, Toeizan Kan'ei-ji Temple, Etoile Kaito & Co., Inc., MUJI GINZA, MURAYAMA Inc., Jewelry Town Okachimachi, LIVE BOARD
Cooperation

NTT East, Ebihara-Shoten, Otemachi First Square Co., Ltd., Kamoi Kakoshi Co., Ltd., Kanda Myoujin, commandA,LLC., THE SANKEI BUILDING CO. LTD., Sea Force Co., Ltd., Seisoku Gakuen High School, Chiyoda Council of Social Welfare, Tokyo Tatemono Co., Ltd., Tokyo Metropolitan KOGEI High School, TOHO-LEO Co., Fujisawa Corporation Co., Ltd., Mitsubishi Jisho Property Management Co., Ltd., Mitsubishi Corporation
Subsidy

Japan Arts Council/ Agency for Cultural Affairs, Government of Japan

TOKYO BIENNALE 2023 THEME
Tokyo Biennale 2023: Create Linkage aims to capture the "linkages" between us and our surroundings. Places, time, people, microorganisms, plants, events, objects, information—we live in a world in which all things are intricately interrelated and ever-changing. Tokyo, in particular, is a society interwoven by extremely dense relationships.
How can we make new connections with the history, culture, and communities of Tokyo, and with the people who support them? How can we create new connections? How can we strengthen and deepen connections? One of the social roles of art today may be its ability to relate to the social environment from unrestricted perspectives. Tokyo Biennale 2023 aims to be a place where participants and visitors can find their own "linkages" based on art's power to connect, enabling new connections to emerge and expand.

MESSAGE FROM THE GENERAL DIRECTORS
As we look forward to the opening of Tokyo Biennale 2023—Creating Linkage, an international art festival originating in local areas of Tokyo, we are eagerly awaiting together with all involved to see what form this art festival, created with the citizens of Tokyo, will take.
We have been preparing for this year's Tokyo Biennale under the theme of Create Linkage. Many of the projects you will experience at this year's Tokyo Biennale have emerged from various locations in Tokyo with the aim of reconsidering the connections that exist within the city, and of creating new linkages from them. We hope that you will take the time throughout the summer and fall sessions to discover the various "connections" found in Tokyo, a city with unique and diverse cultural strata, through the unbound perspectives offered by art. We hope that Tokyo Biennale 2023 will be a place where each and every one of you will be able to discover "connections" that are important to you.
Masato Nakamura, Min Nishihara
General Directors, Tokyo Biennale 2023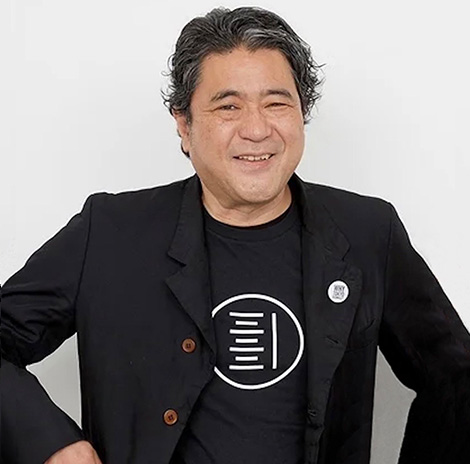 Masato Nakamura
Born 1963 in Odate City, Akita, Japan. Professor at Tokyo University of the Arts (Department of Painting). A socially aware artist pushing forth diverse art projects with focus on "art x community x industry." In the early 1990's, he set up guerilla art projects – "THE GINBURART" in Ginza and "Sinjuku Shonen Art" in Shinjuku's Kabukicho district (1993). From 1996 on, the artist caught global attention by transforming corporate identities into artworks, one major example being the McDonald's golden arches. In 1997, he formed an alternative artist initiative called "Command N." Activities of this group include the international video installation "Akihabara TV" held multiple years in 1999, 2000, and 2002. His work was displayed in the 49th Venice Biennale (2001) Japan Pavilion "First & Slow" exhibition. From 2004, he founded a number of art projects including "himming" in Himi (Toyama Pref.) and "ZERODATE" in Odate (Akita Pref.) Nakamura then founded 3331 Arts Chiyoda in June 2010 as an independent and sustainable art center. Through Command N and 3331, Nakamura has founded 10 art bases and held 740 art projects, in addition to overseeing close to 3,100 events with the collaboration of 2,000 artists, 180 core staff members, and 1,350 supporting staff/volunteers. With an extensive background in a variety of expressive activities, starting in summer 2020 he is taking on the challenge of developing the Tokyo Biennale, an art festival that will dig for the cultural and artistic resources underlying the city of Tokyo.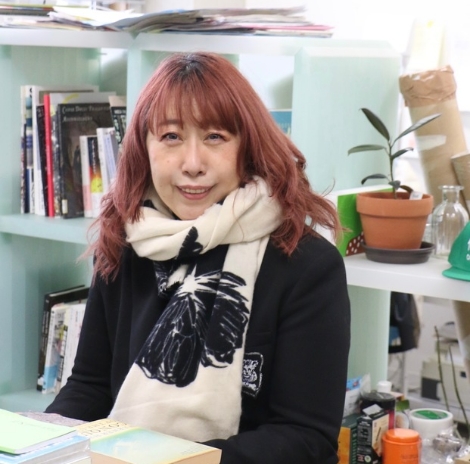 Min Nishihara
A Clinical psychotherapist and independent curator, she organized "Gutai 1955/56" (1993), "Fo(u)rtunes" (1994), and "NEW LIFE" (1999) in the 1990s. After moving to the U.S., she worked as a social worker and clinical psychotherapist in Los Angeles while organizing community-based exhibitions and art projects at various locations, including residences, senior centers, and domestic violence shelters. Since 2018, she has been based in Japan, where she organizes workshops supporting artists and creators and focuses on community care through art projects. Her major projects since returning to Japan include the "Early '90s Tokyo Art Squad" (2019) and "TONARI (neighborhood)" project (2019-). Currently a Professor at Akita University of Art. Representative of Counseling Center for Artists' Mind and Life, Cushion (Care for Caregivers).

TEAM
General Directors

Masato Nakamura, Min Nishihara
Project Producer

Shinobu Nakanishi
Project Directors

Satoshi Iwama, Kazuko Koike
Creative Director

Naoki Sato
Communication Director

Susumu Namikawa
PR Director

Naoko Wakabayashi
Media Liaison

Motoko Imada
International Liaison

Daniel Baburek
WEB Directors

Susumu Namikawa, Takao Neko
Editorial Director

Shinichi Uchida
Art Director

Tomonori Ozaki
Administrator

Yumi Shishido
Project Manager

Yuko Morita
Project Coordinators

Tomoko Kawakami, Miwako Ishikawa, Chikaru Yoshioka, Mai Kishimoto, Haruna Takeda, Kai Nakayama, Sakiko Wakiya, Shoko Nakamura, Kei Kitazawa
PR Coordinators

Sayaca Iwamoto, Rika Akiyama
Operation Managers

Yumiko Tanzawa, Hikaru Sugiyama, Kana Higuchi
Website Production (GYOKU Inc.)

Yuta Kuda (Director), Masaru Sakihara (Director), Mitsunori Morita (Designer), Chie Kikuzato (Front-end engineer), Kazushige Nakayoshi (Front-end Engineer)
Website Backend Developer

Fumio Yamamori (Distillate LLC.)
(As of September 21, 2023)

VISION
Art x Community x Industry
A new city and culture to call our own, built by our own hands in our own place.
The Tokyo Biennale aims at creating activities to become events shared by everyone through many kinds of encounters made between us all. New groups of people have gathered in the area comprising of local citizens with deep roots, as well as those from all over Japan and the entire world. While all kinds of people are living, working, and enjoying the cosmopolitan city of Tokyo, art is what connects them from across different backgrounds as it brings to life our neighborhoods' histories and draws out the future. From here, the concept of "us" emerges and each person may even discover a new "me." Under the theme of "Create Linkage," the key words are "art x community x industry" as we work with people in the area to build our own culture in our own place with activities surrounding the concepts of "HISTORY & FUTURE," "EDUCATION," "WELL-BEING," and "RESILIENCY." The Tokyo Biennale is a celebration for the new city and culture that we ourselves will build.
HISTORY & FUTURE
The future cannot be discussed without knowing the memories left in the places where we live. Starting with bringing up the memories from Edo's history and culture, problems in contemporary society will be drawn out in order to think about the future. In turn, the future will be visualized through memories hidden in history.
EDUCATION
Tokyo Biennale will become the catalyst for actualizing STEAM (skills of science, technology, engineering, art, and mathematics), which integrates fields that are usually held separate in our education system. Through the programming, students of all types of fields will cooperate and become involved with local citizens, which will result in the nurturing of human resources adept at problem-solving.
WELL-BEING
WELL-BEING refers to the good physical, emotional, and social state of individuals. In society, this is the continued state of political, economic, cultural, and environmental wellness. Tokyo Biennale will think in-depth about both the WELL-BEING of "me" and "us."
RESILIENCY
The old saying goes that "Fires and fights are Edo's flowers," referring to the town firemen at the core of the disaster prevention community. Edo's disaster prevention holds deep roots in its local communities. Through Tokyo Biennale, connections between local communities will be revived as a measure towards a society capable of action in cases of disaster.