Since its establishment in 1936, Tokyo Dome City has created many forms of leisure and entertainment, attracting approximately 40 million visitors annually (in FY2019), and has become an open city where the ordinary and the extraordinary intersect. We will build linkages based on the spatial factors within Tokyo Dome City, where history, culture, and many visitors intersect.
This project is being developed for a five-year period starting in May 2022. In the year of the Tokyo Biennale 2023, the art wall connecting Gallery AaMo and Exit A3 of Suidobashi Station will be used to exhibit works by emerging artists, continuing the activities of the previous year. Following Rintaro Takahashi, the first participating artist, Mai Endo will begin exhibiting her works in the fall period of 2023. Preparations will also begin for the opening of artworks in 2024 in three other spaces: the underground passageway from Tokyo Dome City to Koishikawa Korakuen, the atrium of food and community space " Hi!EVERYVALLEY," and the glass surface of the multifunctional Prism Hall.

Organizers: TOKYO DOME CORPORATION, Tokyo University of the Arts, Tokyo University of the Arts Initiative for Arts Creation
Invitation to Workshop
Workshop "Attractively Idling Tour"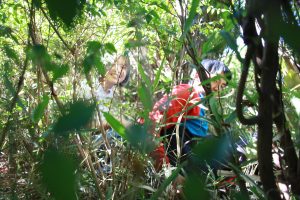 Attractively Idling is a work by Mai Endo, who interviewed people working diverse jobs in Tokyo Dome City to demonstrate and create a work of art about a moment of rest during the workday and their desires.
In this workshop, after viewing the work Attractively Idling, participants will tour around Tokyo Dome City to hear the voices of those who actually participated in the creation of the work, and consider what "rest" means to them.
Why don't you walk around Tokyo Dome City with the artists and explore what "Attractively Idle" moment means to you?
Date

Saturday, 7 October, 11:00-13:00
**In case of rain, the event will be postponed to Sunday, October 15, 11:00-13:00.
The meeting place

Tokyo Dome City
Pathway connecting Gallery AaMo to Exit A3 of Suidobashi Station on the Toei Mita Line
(1-3-61 Koraku, Bunkyo-ku, Tokyo)
In front of Attractively Idling

Ticket
JPY2,000 (Participation fee includes Ferris wheel ticket and one drink)
The number of participants
20 person