The Picnic Chronicles Test
Q1) Who and what is your current job for? Q2) What would you do if it were you?

In the coming "picnic era," companies will be questioned about what they exist and operate for.
Will people be able to establish their own value when the global environment, declining birthrates, and the rise of AI and robots reduce the amount of time people spend at work to about three days a week, and the priority of work in their lives is greatly reduced?
There is no mission, no goal, no winners or losers in a picnic, only a field, you, and others.
The era of dependence will transition to an era of self-reliance. At once a hell and a paradise.
Will you be invited to the picnic?
The "Picnic Era" Proficiency Test is your ticket to the paradise that is the picnic.
Invitation to Talks

Naturally, it is a picnic with no mission or goal like a job, no winning or losing like a sport. When the time comes when we only have that picnic, how will we live in that time? Will I have friends and acquaintances who will come to my plans, and will my friends and acquaintances invite me? By questioning and self-evaluating our current way of working and living, we will think together with our guests about how we should approach the coming picnic era.
Theme: Masamichi Toyama and Dai Tamesue's "What is a Picnic?"
Date: Thursday, October 12, 2023, 18:30-19:30 (Registration 18:00-)
Venue: COREDO Muromachi 3 B1F (1-5-5 Nihonbashi Muromachi, Chuo-ku, Tokyo 103-0022)
Speakers: Masamichi Toyama (Representative of Smiles)
     Dai Tamesue (Representative of Deportare Partners)
Admission: Free
Capacity: 20 people (registration will close when capacity is reached)
Access: Direct connection to Mitsukoshimae Station on Tokyo Metro Hanzomon Line and Ginza Line (Exit A4)
     Direct connection from "Shin-Nihonbashi" station on JR Sobu line rapid train
     *Please refer to each transportation agency's website for station exits.
Inquiries: info@tokyobiennale.jp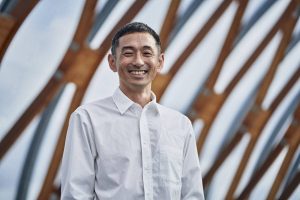 Dai Tamesue
Born in 1978 in Hiroshima, Dai is the first Japanese medalist in a world competition for a sprint event. He also participated in three Olympics and holds the Japanese record for men's 400m hurdles (as of September 2023). Dai currently runs several projects related to the human body. He is the author of "Winning Alone" "The Philosophy of Running" "The Strength to Give Up," among other titles.
"The Theory of Mastery" will be published as the culmination of his learnings as an athlete.