The Slow Art Collective is an art group based in Melbourne, led by Chaco Kato and Dylan Martorell. Their art projects focus on sustainability and multicultural coexistence and embrace public participation by using natural materials like bamboo, rope, and materials found in the city. They create "slow art" as a "device for making connections," a way for diverse people to share and exchange culture instead of fast, monetary exchanges. "Slow Art Collective Tokyo" is working to spread and expand the value of Slow Art from Tokyo after the Tokyo Biennale 2023 Beginning Exhibition (2022). In 2023, the artists plan to create an art hub open space in the Daimaruyu area where everyone can participate. They will collaborate with people who join them to create a large-scale installation, aiming to build connections through the process.
Daimaruyu Art Action
The Daimaruyu area (Otemachi, Marunouchi, and Yurakucho), in addition to being a business district that plays a key role in the Japanese economy, has a history of urban development centered on culture and the arts dating back 100 years, including the construction of Japan's first theater at the dawn of modern Japan. "Daimaruyu Art Action" will implement a number of art projects at the forefront of urban development in the heart of the city, and collaborate with a network of local businesses with a view to "the next 100 years" of taking action to arouse creativity.
Each Linkage to be implemented in the Daimaruyu area in Tokyo Biennale 2023 will collaborate with the following members for its realization.
Daimaruyu SDGs ACT5 Project Executive Committee, Ligare (OMY Area Management Association), The OMY Landlord Council, Mitsubishi Estate Co., Ltd., other companies, stores, entrepreneurs and workers in the Daimaruyu area, artist collectives and designers working on social issues, universities and organizations involved in multiculturalism and community development, and others.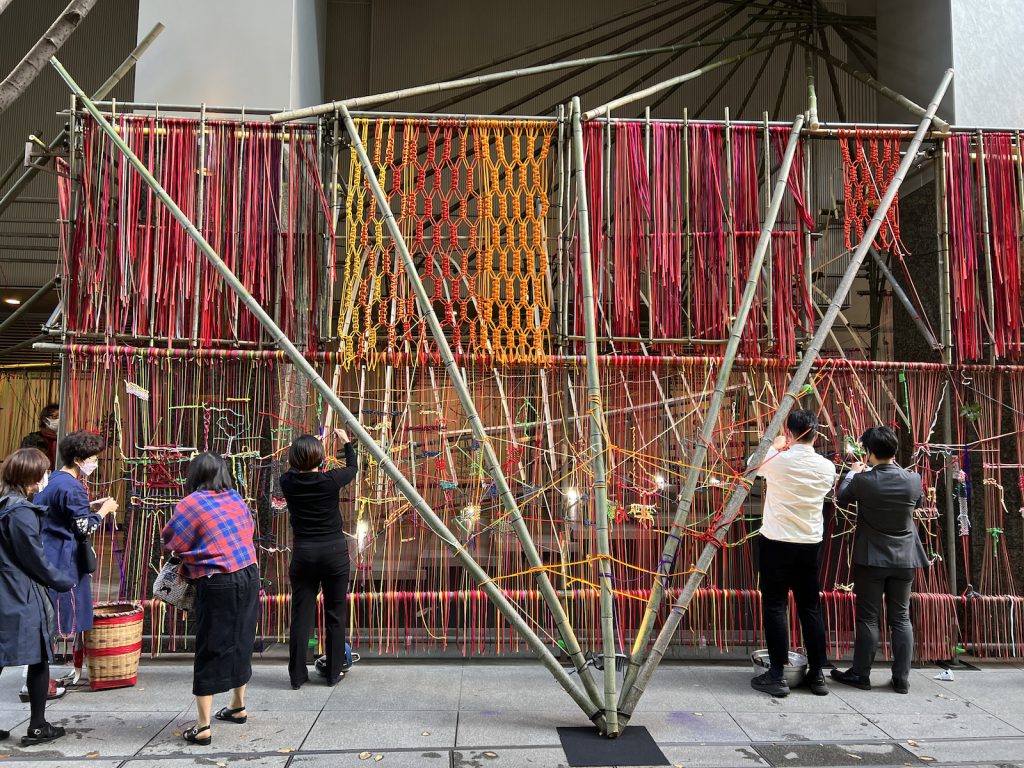 A scene of "Slow Art Collective Tokyo," Tokyo Sankei Building, 2022. Tokyo Biennale 2023 Beginning Exhibition
Schedule



| | |
| --- | --- |
| July | Slow Art Collective Tokyo begins accepting applications for membership Talk event |
| September | Slow Art Collective comes to Japan for a residency. Fall period: Participatory installation work |