A community art project in which 10,000 miniature tenmasen boats, each about 30 cm long and modeled after a wooden Japanese-style boat, are floated on the Nihonbashi River.
The goal is set at Nihonbashi Bridge, and the miniature boats start from upstream all at once. In addition to eonjoying the view of floating boats, you can entry the time trial by one boat for every 1,000 yen donated. The establishment of viewing locations in the surrounding area will enliven the community, while live-streaming will communicate the charm and value of the Nihonbashi River to people all over the world. A program will be created for each process, including flagging, transporting, and cleaning for reuse of the miniature Tenma boats, and participation will be encouraged.
A portion of the registration fee will be used for river purification, waterside revitalization, cultural promotion, and the production of traditional tenmasen, in addition to the presentation of special commemorative gifts according to the order of arrival. The miniature boats are made from thinned cedar wood, which will be collected, cleaned, and reused after the event.
By transcending genres such as art, community development, and environmental revitalization, and through collaboration among artists, students, citizens, and businesses, we will create a cross-sectional network of new and old waterfront users in the city. We aim to increase the initiative and collaboration of citizens and establish this as a sustainable project.
Officeal Website(tenmasen.net)
Entry to Time trial(commandn.stores.jp)

Organizer: Command N
Co-organizers: "TENMASEN Project 2023/Nihonbashi River" Executive Committee, Tokyo Biennale
Suponsors: Mitsui Fudosan Co., Ltd., Mitsubishi Estate Co., Ltd.
Cooperation: Sotobori School for Citizen, Tokyo suribachi gakkai, Meikyo "Nihonbashi Bridge" Preservation Society, Nihonbashi Renaissance 100 Year Plan Committee, Etsuro Shimizu Laboratory at Tokyo University of Marine Science and Technology, Houseboat Tokyo Cooperative Association, Chuo Sumida Fishing Cooperative Association, CHOPPER inc., Conference for Aqua-city Tokyo in the future, Sakamoto Corporation (Tenmasen boats production in FY2021), Chizu-cho Tottori Prefecture, Nihonbashi111, Kao Peony Co., Ltd.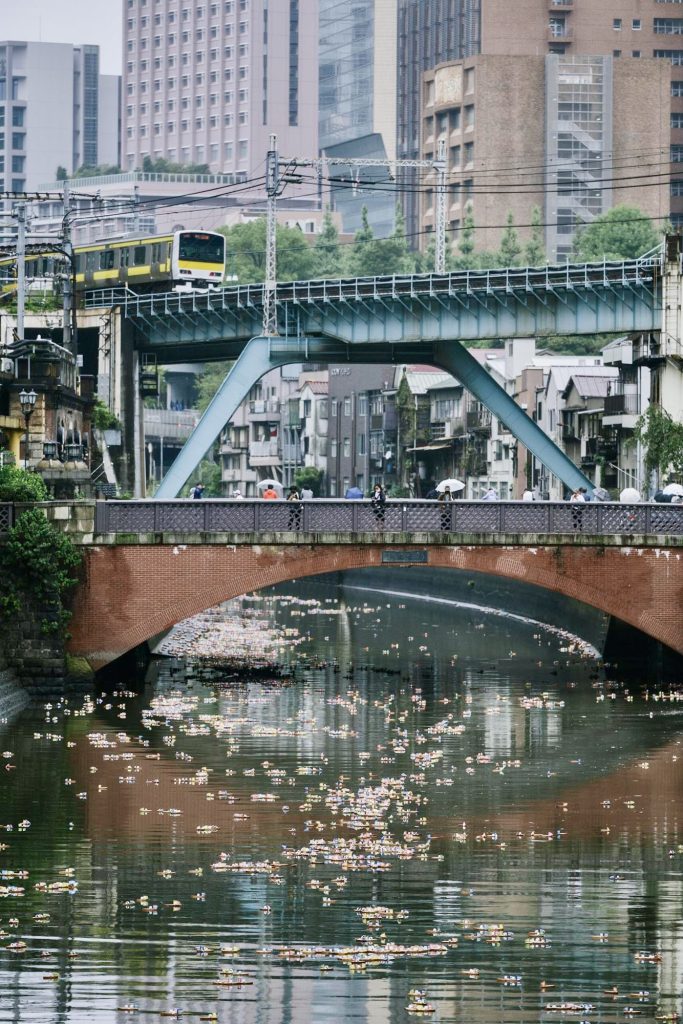 "TENMASEN PROJECT 2021/Kanda River" at the Tokyo Biennale 2020/2021
What is the Tenmasen Project?
The project began in Himi City, Toyama Prefecture. Tenmasen are small hand-pulled wooden Japanese-style boats that have been used in the region. Eventually, modern boats made of FRP and other new materials replaced them, but the Tenmasen Project, which began in 2006, had about 1,000 miniature tenmasen boats made of thinned wood donated for 1,000 yen each and raced along the Kamishogawa River. Furthermore, two actual tenmasen boats were completed by local boat carpenters with the collected donations and other funds. The boats have become a valuable cultural resource that conveys the charm of Himi's Japanese-style boats, and are offered for pleasure cruises during the cherry blossom season.
This effort led to the Tenmasen Project 2021/Kanda River at the Tokyo Biennale 2020/2021. Many Miniature tenmasen crowded the surface of the river and entertained riverside walkers. These boats also served as a wish for the eradication of plague at a time when COVID-19 had a great impact on society. Following the above project, "TENMASEN PROJECT 2023/Nihonbashi River" will create a new connection with this river, another important waterfront in Tokyo, as its stage.
Schedule
| | |
| --- | --- |
| July | Video screening of "TENMASEN PROJECT 2021: Kanda River" and calling for Tenmasen boats time trial participants |
| August | Recruitment of volunteers for operation |
| September | Exhibition and preparatory works such as attaching flags to miniature Tenmasen boats |
| October | Time Trial Event |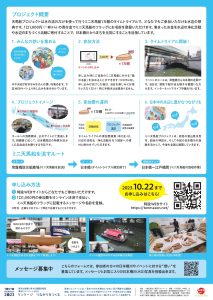 Related Information

Document of Tenmasen Project 2021/Kandagawa (Tokyo Biennale 2020/2021)