One of the Linkages of Tokyo Biennale 2023, "We are Kao no Waishatsu," is looking for members who will be involved in the production together.
Outline
"Kao no Waishatsu" (Face-Brand Shirts) was founded in 1920 as a made-to-order shirt business shop. The shop's trademark is a large sign with a big face that suddenly appears in Kanda Ogawa-cho, in the middle of modern buildings. After the Great Kanto Earthquake, the shop was rebuilt and operated in the same location ever since, undeterred by the war damage. The distinctive signboard is based on a portrait of the first owner, Matsu Kajinaga, as a young man. The shop was however regrettably closed in early 2020.
In order to preserve the value of this "Kao no Waishatsu" in society, this project will turn this "face" into art works in a variety of media (painting, photography, video, etc.). As for the shop architecture, the project plans to establish this historical "Kao no Waishatsu" as a distinct personality until the store is dismantled, and to develop activities that will give it a "life after life." Many people will be able to take the 'face' created here and establish new connections with it as 'our face.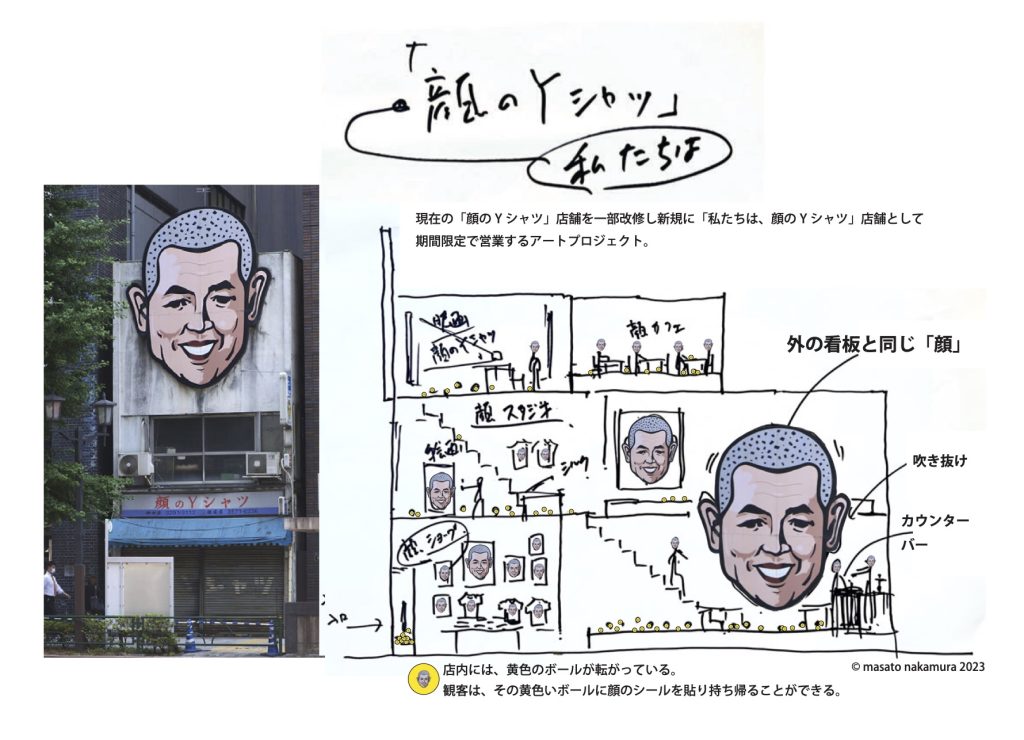 Purpose of Activity
The objective of the production team is to preserve the "face" of the "Kao no Waishatsu" by creating works of art in various media. The team also aims to foster a new art community among the participating members through their activities.
Activity Period
Weekends and holidays from July to September 2023
Place of Activity
"Kao no Y-Shirts" shop (2-1 Kanda Ogawamachi, Chiyoda-ku, Tokyo)
Activities
The entire shop space will be used to create paintings, photographs, posters, T-shirts, videos, stickers, masks, etc. of the "Kao" (face) through architectural construction, silk-screening, painting, design work, etc. The works will be exhibited and sold at the Tokyo Biennale 2023. In addition, parties and events themed on "Kao" will be held in the store.
On-site Briefing & Reception for Prospective Participants

*This briefing session has ended. Thank you to everyone who attended. *We are still looking for production members.

Date: Sunday, July 2, 2023
Time: 15:00–17:00
Venue: "Kao no Y-shirts" shop (2-1 Kanda Ogawamachi, Chiyoda-ku, Tokyo)
Speaker: Masato Nakamura (artist, General Director of Tokyo Biennale 2023)
Conditions of Activity
Volunteers (free of charge). Registered as volunteers with Tokyo Biennial 2023 and be covered by insurance for work, etc.
How to Apply
Please send the following information to the following e-mail address.
Subject: Application | Production Member of We Are Kao no Waishatsu
Your name
Contact information (phone and email address)
Age
Brief motivation for application
Mailing address
Tokyo Biennale 2023 Office
info@tokyobiennale.jp