"Tokyo Art Farm" is a farm x art experience in Tokyo based on "circulation through co-creation" with diverse citizens, producers, chefs, and artists. "MOBILE FARM," one of it's project , is an attempt to grow vegetables by filling unwanted carrycases and suitcases with soil. Therefore, the project is looking for people who are willing to bring their own carry-on cases or suitcases.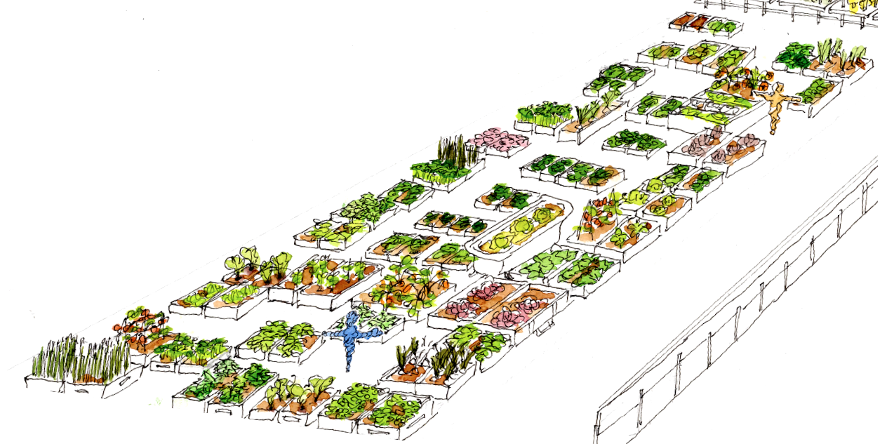 Drawing by Saki Kubota
TOKYO ART FARM will be held near Tokyo Station Grand Roof 2F. The station is the starting and ending point of a journey. Have you ever replaced your carry-on cases and suitcases filled with memories of such trips, and have one or two of them been sleeping in a closet at home?
We have heard from a company that handles industrial waste that many of these cases are made of various materials such as plastic and aluminum, and that disassembling and disposing of them is time-consuming.
Therefore, we will conduct a project to recycle these unwanted carrycases and suitcases by turning them into "planters," filling them with soil, and planting seeds in them as a "MOBILE FARM for Everyone." Why don't we breathe new life into carrycases filled with memories and regenerate urban areas together? Let's use your unneeded carrycases, suitcases, etc. as planters to grow new life and exhibit them at TOKYO ART FARM!

Collaborative partners: Daimaru Matsuzakaya Department Store (MIRAITEIBAN KENKYU-JYO, Daimaru Tokyo), Tokyo Tatemono Co., Ltd., Future Food Institute, East Japan Railway Company, UNIVERSITY of CREATIVITY
Application Requirements
Please fill in the basic information in the "How to Apply" section below and bring your empty suitcase or carry-on case to the venue (Tokyo Station Grand Roof 2F) on the day of the drop-off reception. Location details and other information will be provided to applicants.
Cases must not have broken wheels and be movable.
We plan to do some cutting on the spot, fill it with soil, and plant seeds and seedlings. We will provide the tools.
After the exhibition ends, please take your cases home and grow them in your garden or balcony! Please be sure to take your cases home from the venue after the exhibition ends (November 5 or 6). We appreciate your cooperation in avoiding that these cases become unwanted waste.
We would also appreciate a show of hands if you would be willing to help watering the plants during the exhibition!
Deadline for application procedures: Friday, September 22, 2023
Drop-off: Saturday, September 23, 2023, 10:00-15:00
Pick-up (tentative): Sunday, November 5, 2023, 17:00-18;00 or Sunday, November 6, 2023, 13:00-18:00
How to apply
Please fill out the form by clicking the application button below.