Opened, closed, loosened, secured, and connected...
Zippers play such an important role in many aspects of our daily lives, including when we wear clothes. In this workshop, we will make clothes in which zippers play a leading role.
The theme of this workshop is "Let's remake your clothes and make one outfit with 10 zippers!" Clothes with zippers that can be opened, closed, loosened, secured, and connected at will. In the end, let's wear such clothes and become a zipper-man!

Organizer: Tokyo Biennale
Co-organizer: Kigaeru House Executive Committee
Support: YKK Corporation
Cooperation: Chiyoda Council of Social Welfare
Facilitator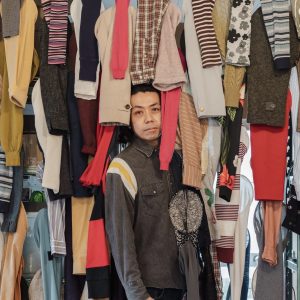 Photo by Natsumi Kinugasa


Yoshinari Nishio
Artist. Born 1982 in Nara, Japan. He has been developing projects in Japan and abroad focusing on the relationship between the act of dressing and communication . He also works with his own fashion label NISHINARI YOSHIO. Currently an associate professor at the Department of Inter Media Art, Faculty of Fine Arts, Tokyo University of the Arts.