*This lecture is given in Japanese.
Pubrobe is a coined word combining the words "public" and "wardrobe," and is a project to create a public wardrobe, like a clothing library, accessible to all. Inspired by a market in Nairobi, the artist Yoshinari Nishio will use Ebihara Shoten, a kanban kenchiku [signboard building] (2-3 story wooden shop and residence with only the front facade covered and decorated with fire-resistant materials) in Kanda built during the reconstruction period after the Great Kanto earthquake of 1923, as the base for this project. The shop had handled used clothing, ready-to-wear clothing, fabrics, and other clothing-related products. We are widely calling for donations of clothing.We will collect clothes worn over the past 100 years from the earthquake to the present to compose a public wardrobe, connecting 100 years of people's time/life culture to the Tokyo of the future.
The third lecture to be held as part of this project is "100 Years of Sensibility." The lecturer is creative director Kazuko Koike (project director of Tokyo Biennale 2023), in conversation with artist Yoshinari Nishio (project director of "Pavrobe: 100 Years of Clothing"). The year 2023 marks the 100th anniversary of the Great Kanto Earthquake of 1923. How did the sensitivities of people living in each era enrich their lives and bear fruit in culture? Koike, who has been at the forefront as a creative director, will join Nishio to delve deeper. Please join us for a lecture on the keywords of the fashion of the era, which was rich in variety of life and economic changes for people, and feel the sensitivity of the past 100 years.
Organizer: Tokyo Biennale
Co-organizer: Kigaeru House Executive Committee
Support: YKK Corporation
Cooperation: Chiyoda Council of Social Welfare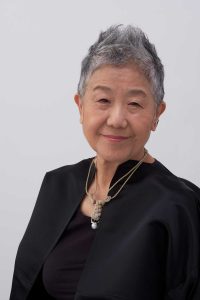 Kazuko Koike
Creative Director. Project Director of Tokyo Biennale 2023. Born in Tokyo. Graduated from Waseda University, Faculty of Letters, and was involved in the founding of MUJI in 1980, and has served on the advisory board since then. She has planned and directed numerous exhibitions, including "City of A Girl" (2000) at the Japan Pavilion of the International Architecture Exhibition at the Venice Biennale, and "Ikko Tanaka and Future/Past/East/West of Design" (21_21 DESIGN SIGHT, Tokyo, 2012), In 2022, she held her first solo exhibition, "Alternative! Kazuko Koike Exhibition: Soft-Power Movement of Art & Design" at 3331 Arts Chiyoda, Tokyo. She is a professor emeritus at Musashino Art University, and a recipient of the Order of Cultural Merit.