*This lecture is given in Japanese.
Pubrobe is a coined word combining the words "public" and "wardrobe," and is a project to create a public wardrobe, like a clothing library, accessible to all. Inspired by a market in Nairobi, the artist Yoshinari Nishio will use Ebihara Shoten, a kanban kenchiku [signboard building] (2-3 story wooden shop and residence with only the front facade covered and decorated with fire-resistant materials) in Kanda built during the reconstruction period after the Great Kanto earthquake of 1923, as the base for this project. The shop had handled used clothing, ready-to-wear clothing, fabrics, and other clothing-related products. We are widely calling for donations of clothing.We will collect clothes worn over the past 100 years from the earthquake to the present to compose a public wardrobe, connecting 100 years of people's time/life culture to the Tokyo of the future.
The second lecture, "100 Years of Family," to be held as part of this project, will feature sociologist Shunya Yoshimi (Chairman of Tokyo Cultural Heritage Alliance, Professor at Kokugakuin University, Faculty of Tourism and Community Development) as lecturer. The year 2023 marks the 100th anniversary of the Great Kanto Earthquake of 1923. Yoshimi's book about his family, Haisha to shite no Tokyo (Tokyo as a Loser), will be the subject of our discussion, as we consider what Japanese society can be seen by tracing the family history. Please join us for this lecture to decipher "100 years of family," with Yoshimi's mother, grandmother, grandmother's nephew, and great-grandfather as key players in the story.
Organizer: Tokyo Biennale
Co-organizer: Kigaeru House Executive Committee
Support: YKK Corporation
Cooperation: Chiyoda Council of Social Welfare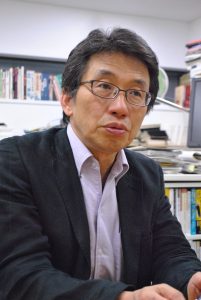 Shunya Yoshimi
Sociologist. Chairman of Tokyo Cultural Heritage Alliance and Professor at Kokugakuin University's Faculty of Tourism and Community Development. He has played a central role in Japanese cultural studies while developing urban and media theories. He has long taught at the University of Tokyo, where he has served as Dean of the Interfaculty Initiative in Information Studies, Director of the University Research Center, Director of the Education Planning Office, and Vice President. He is also currently the President of the Japan Society for Digital Archive. The author of many books on cultural theory, urban culture.
Registration
Please confirm the date/time and venue listed on this page and send your application with the required information to the e-mail address below. Payment instructions for the fee (1,000 yen for adults, 500 yen for students) will be provided in the e-mail reply to your application.
E-mail address: info@tokyobiennale.jp
E-mail subject: Registration | Pubrobe Lecture (2)
Required information: (1) Name (of representative) (2) Number of persons (3) Contact E-mail address (4) Adults or students