Seeking Solace explores inherently human themes within the common community of the work environment, with performers singing deeply personal confessions to solemn Icelandic folk songs. By collectively singing these unhinged, deeply personal and hyper-human confessions to ancient-sounding and solemn folk songs the ever-present imposter syndrome and people's psychological states are revealed. In our artificial corporate society, how can we connect with each other, help each other and make connections between people?

Organizer: Tokyo Biennale
Support: EU-Japan Fest Japan Committee
Cooperation: Tokyo Dome Corporation

Videographer: Akiko Hashiguchi
Editing by Hildur Elísa Jónsdóttir
Audio guide is available here!
Songs Sung in the Work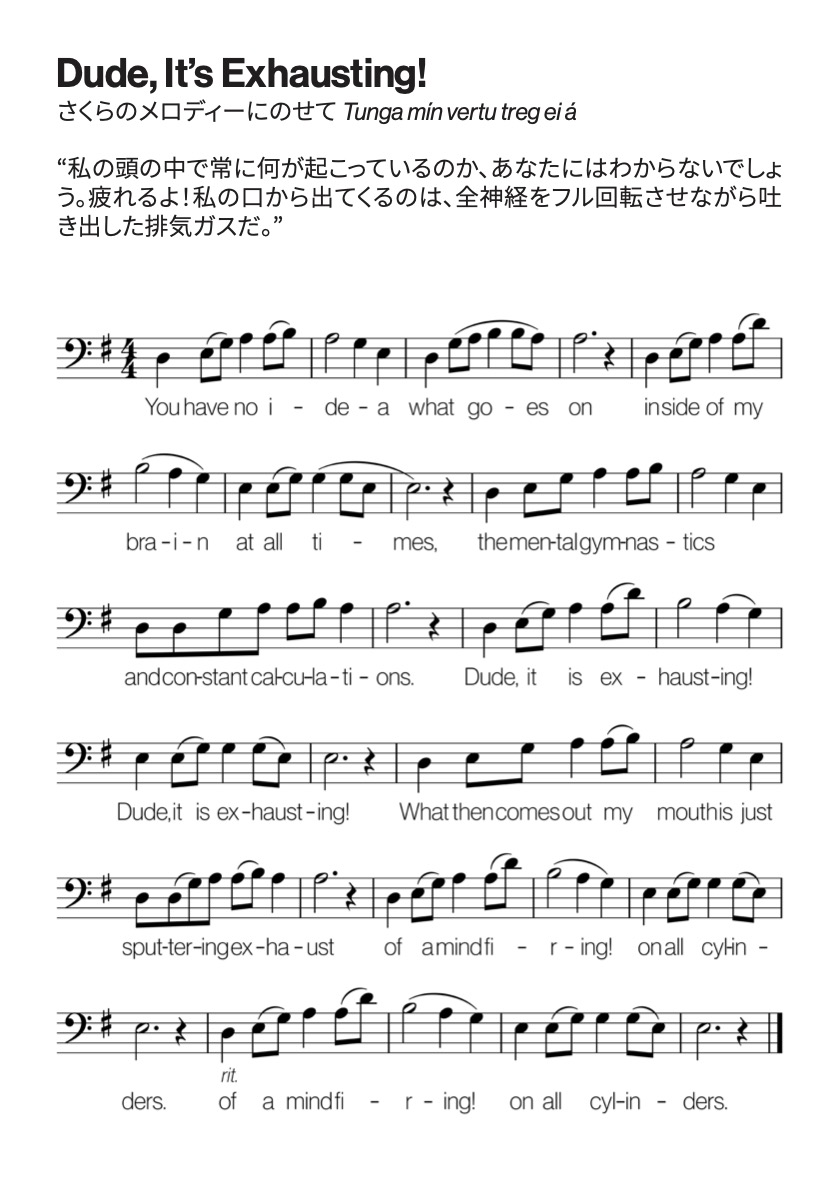 Click here to view the sheet music (PDF).
Performers
Yoko Ito, Airi Katayama, Miuna Kusumoto, Natsumi Kuroki, Risa Sekiguchi
Programs
Performance
The artist and five Japanese performers will present a live performance of Seeking Solace.
Date: 2023.10.6 18:30–19:00
Venue: 3F gallery, Etoile Kaito Living Building
1-15-15 Higashi-Kanda, Chiyoda-ku, Tokyo
Admission: Free


Performers
Airi Katayama

Born 2002 in Gunma. Entered acting course at Nihon University College of Art, Department of Theatre Arts. Stage appearances include: performance training at Nihon University College of Art, 2022 "i" by theatre company zzZ , 2023 GOON PROJECT special performance "virtual reality."

Natsumi Kuroki

Performer. Mime and singing. Graduated from Doshisha Women's University, Faculty of Arts and Sciences, Department of Music, Performance, Voice Course. Studied mime under Naoki Iimuro. Performed in Naoki Iimuro Mime Company, Knit Cap Theatre and others. Winner of DANCE COMPLEX 2010. Performed at the Tokyo 2020 Paralympics Opening Ceremony, and is a SLOW LABEL acampanist. Loves coffee.

Fumiwo Moriyama

Poet

Miuna Kusumoto

High school student
SOCIAL DIVE: Artist-in-Residence Projects
For the SOCIAL DIVE Artist in Residence Projects, an open call program that was held in the previous Tokyo Biennale 2020/2021, twelve overseas artists were selected from over 1,535 applications. However, the projects of seven of those artists were postponed due to the effects of the coronavirus.
For Tokyo Biennale 2023, we plan to invite the artists who were unable to come to Japan to present their works. The artists will "dive" into various areas of the Tokyo cityscape, observe the charm of people who live and gather there, and generate new values. While interacting with society, the artists will come to reveal various connections latent in the city. These connections may offer unexpected perspectives for those who live and work in Japan today, or viewpoints that are all too familiar for its inhabitants to notice.