One of the Linkages of the Tokyo Biennale 2023, "We are 'Kao no Waishatsu' (Face-Brand Shirts)," invites workshop participants for the summer period.
Outline
"Kao no Waishatsu" (Face-Brand Shirts) was founded in 1920 as a made-to-order shirt business shop. The shop's trademark is a large sign with a big face that suddenly appears in Kanda Ogawa-cho, in the middle of modern buildings. After the Great Kanto Earthquake, the shop was rebuilt and operated in the same location ever since, undeterred by the war damage. The distinctive signboard is based on a portrait of the first owner, Matsu Kajinaga, as a young man. The shop was however regrettably closed in early 2020.
In order to preserve the value of this "Kao no Waishatsu" in society, this project will turn this "face" into art works in a variety of media (painting, photography, video, etc.). As for the shop architecture, the project plans to establish this historical "Kao no Waishatsu" as a distinct personality until the store is dismantled, and to develop activities that will give it a "life after life." Many people will be able to take the 'face' created here and establish new connections with it as 'our face.
Workshop Content
Based on the above ideas, the project will involve architectural construction, silk-screening, painting, and design work to create "face" paintings, photographs, posters, T-shirts, videos, stickers, masks, etc., using this entire store space. The works will be exhibited and sold at the Tokyo Biennale 2023. In addition, parties and events themed on "faces" will be held in the store.
The workshop for which participants are being sought this time will include a variety of activities based on the above premise. We look forward to your participation.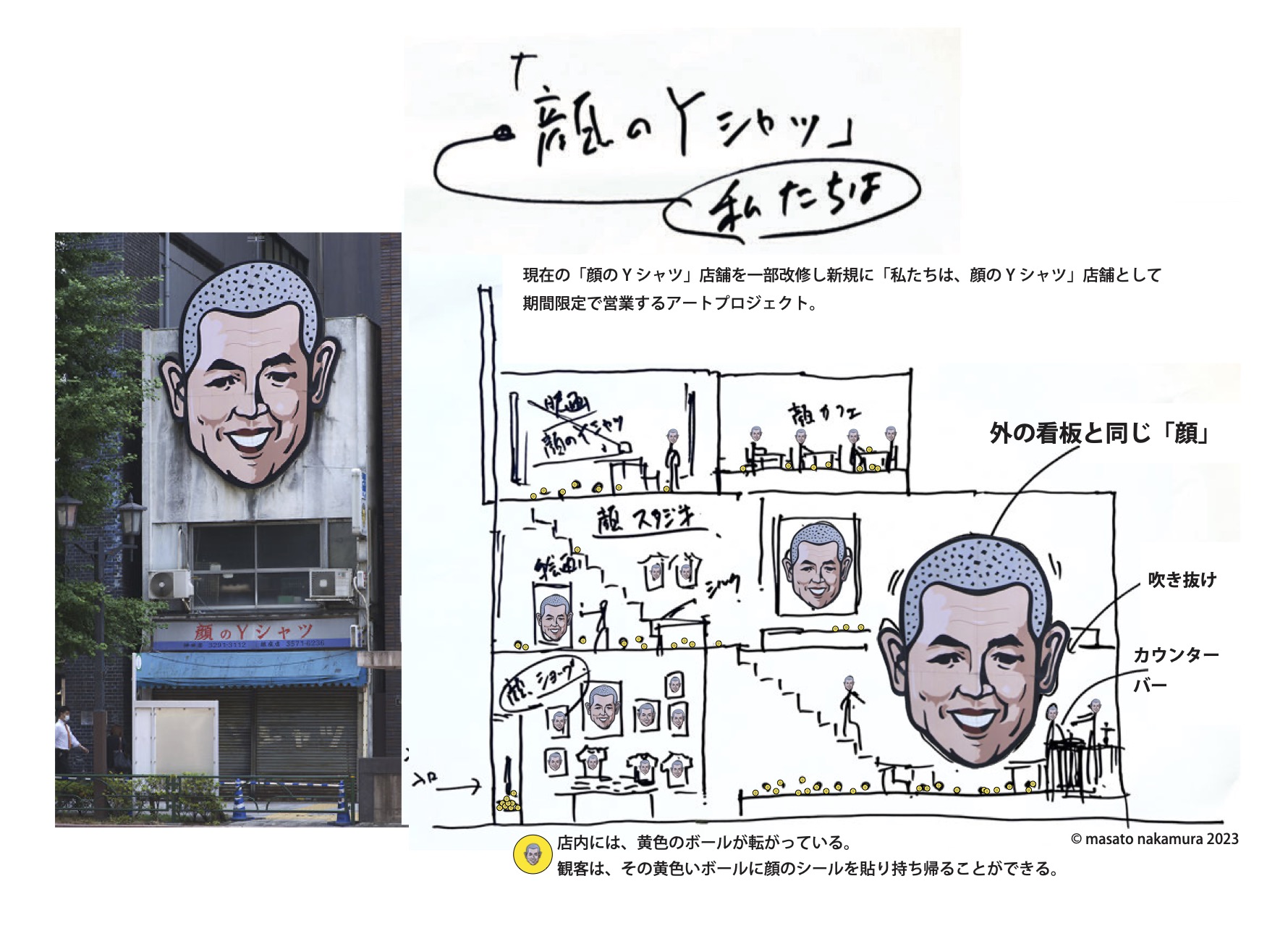 Workshop Registration
Please register with the required information to the e-mail address below. Participation is free of charge.
E-mail address for registration: info@tokyobiennale.jp
Subject of e-mail: Registration | Workshop of "We Are Kao no Waishatsu"
Required information: (1) Your name, (2) Phone number, (3) Preferred participation date and time (more than one date from those listed in the "Date" column on this page)