Renovate Tokyo, Make Real Public Spaces
Yohei Shimada
Representative of Lion Architects Co., Ltd.
Founded Lion Architects Co., Ltd. in 2008. Implements renovative town-building in areas of decline across Japan. Through the success of renovative town-builidng in Kitakyushu Uomachi, received the "Ministry of Land, Infrastructure, and Transport Award" and "The Prize of AIJ for Education Award for Outstanding Practice". Was selected second place in Nikkei Architecture "Architect of the Year 2017".
Directly connect to the Metropolitan Expressway and turn the Tokyo Expressway overarching the Ginza area into a vehicle-free "pedestrian paradise"
The 1964 Summer Olympics marked the beginning of contemporary city life in Tokyo. All of us gained hard, but wonderful lives through the city's infrastructure. Yet, are we using it to the fullest? In order to take full advantage of the 1964 legacy, the Tokyo Expressway, directly connecting with the greater Metropolitan Expressway, will give rise to a "pedestrian paradise" in Ginza made fully public for the city's inhabitants.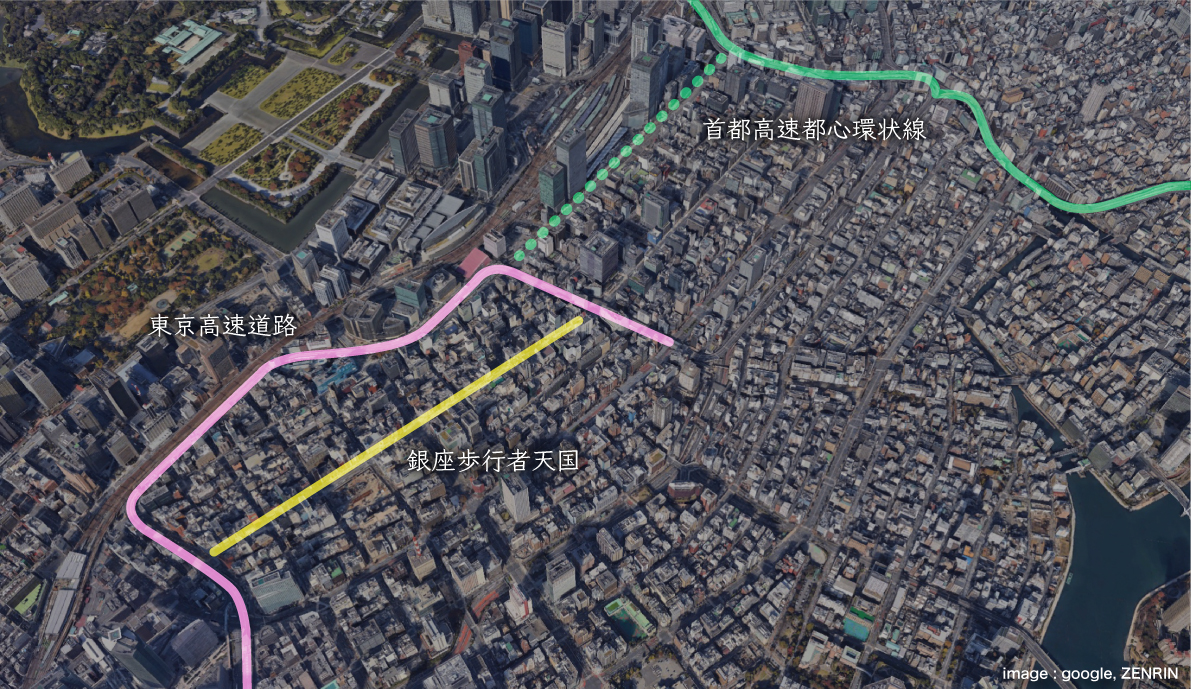 A Single Flag
Children, I want to apologize to all of you
I want to apologize to all of you for the play areas that were lost from the city
I want to apologize for the loss of the river, and the construction of the expressway
I want to apologize for the pesticide covered vegetables lined up in your kitchen
I want to apologize for the loss of places to do horseplay
I want to apologize for making you eat meals alone
I want to apologize for making the city so bright that you can't see the stars in the night sky
I want to apologize for the construction of a city in which you can't do anything without a car
I want to apologize for the construction of a city whose buildings cost money to maintain
I want to apologize for making you feel a loneliness never known before
I want to apologize for the loss of trees, grass, and all kinds of living things
I want to apologize that your value was measured simply by test scores
I want to apologize for the invention of tools that can easily hurt someone's feelings
I want to apologize for forcing you not to talk to strangers
I want to apologize for the loss of a treasure island worth exploring on this planet
I want to apologize for the creation of so many things beyond what you really want
I want to apologize for the creation of rules made only for a class of wealthy people
I want to apologize for making oceans you can never swim in and forests you can never enter
I want to apologize for not ending war
I want to apologize for not being able to create an era in which you could look forward to becoming an adult
But, I do want to tell you this
The people who build and use the city are all of us
Let's recapture it again. First, from that one place in Tokyo
We shall place a single flag as a landmark for all of you who will one day rise
RENOVATION ARCHITECT TEAM
Takenori Miura (STARPILOTS)
Born in Tokyo in 1974. From big to small, engages in all kinds of planning, including shared offices and shooting studios. Won the Good Design Award for "Michinoeki FARMUS Kijimadaira", as well as the 2016 "Toumon Architectural Society Special Merit Award". Has written literature including "Okoranakatta sekai ni tsuite no monogatari" (Transl. "Story about the world that never was"), "Kossori kossori machi wo kaeyou" (Transl. "Let's slowly and quietly change our town"), etc.
Masahhiro Nakamura (tsukuruba inc.)
Born in 1984. Graduated from Tokyo Institute of Technology with a graduate major in Architecture and Building Engineering. Serves as a real estate developer, holds a museum design office, and has founded an environmental NPO. In 2011, became the joint founder of space invention company, tsukuruba inc. Continues to develop design that crosses with fields of business and technology. Holds a position as part-time professor at Showa Women's University.
Iichi Katoke (HandiHouse project)
Born in 1983 in Hachioji. After graduating from Musashi Institute of Technology (Current: Tokyo City University) Graduate School, became part of MOUNT FUJI ARCHITECTS STUDIO. In 2011, started HandiHouse project. Then in 2015, received the first "From Now On Architect Award" (organized by Tokyo Society of Architects & Building Engineers). Served as adjunct professor at Tokyo City University in 2018.
Midori Segawa (Studio Tokyo West)
Born in 1989 in Tokyo. Graduated from Japan Women's University Faculty of Human Sciences and Design. Went on to complete a graduate degree through Yokohama National University Graduate Program Y-GSA. Runs a multiple location based network sharing community, ""anmonaitsu"", which places two sharehouses between the Kichijoji – Nishiogikubo area as its core. Currently engages in area management across the nation. Serves as adjunct professor at Dokkyo University Department of Economics.