Introducing Different Viewpoints to the Field of Design
Naoki Sato
3331 Arts Chiyoda Design Director
In 1998, founded Asyl Design (Current name: Asyl inc.) Produced "Central East Tokyo" (area renovation project) during 2003 – 2010. In 2010, participated in the founding of 3331 Arts Chiyoda. Shifted focus on making drawings through involvement in the festival known as "TRANS ARTS TOKYO". Has received numerous awards domestically and internationally by institutions such as the San Francisco Modern Art Museum permanent collection. Lecturer at independent art school Bigakko and professor at Tama Art University.
Openly structure methods of information spreading geared towards visitors of a wide spectrum of cultural backgrounds who will be attending the Tokyo Biennale.
What type of design do we need in order to carry out the Tokyo Biennale for people of all backgrounds? Aspects to consider ranging from specific attributes to motivations will be dropped into a concrete design program, resulting in an information sharing system geared towards visitors.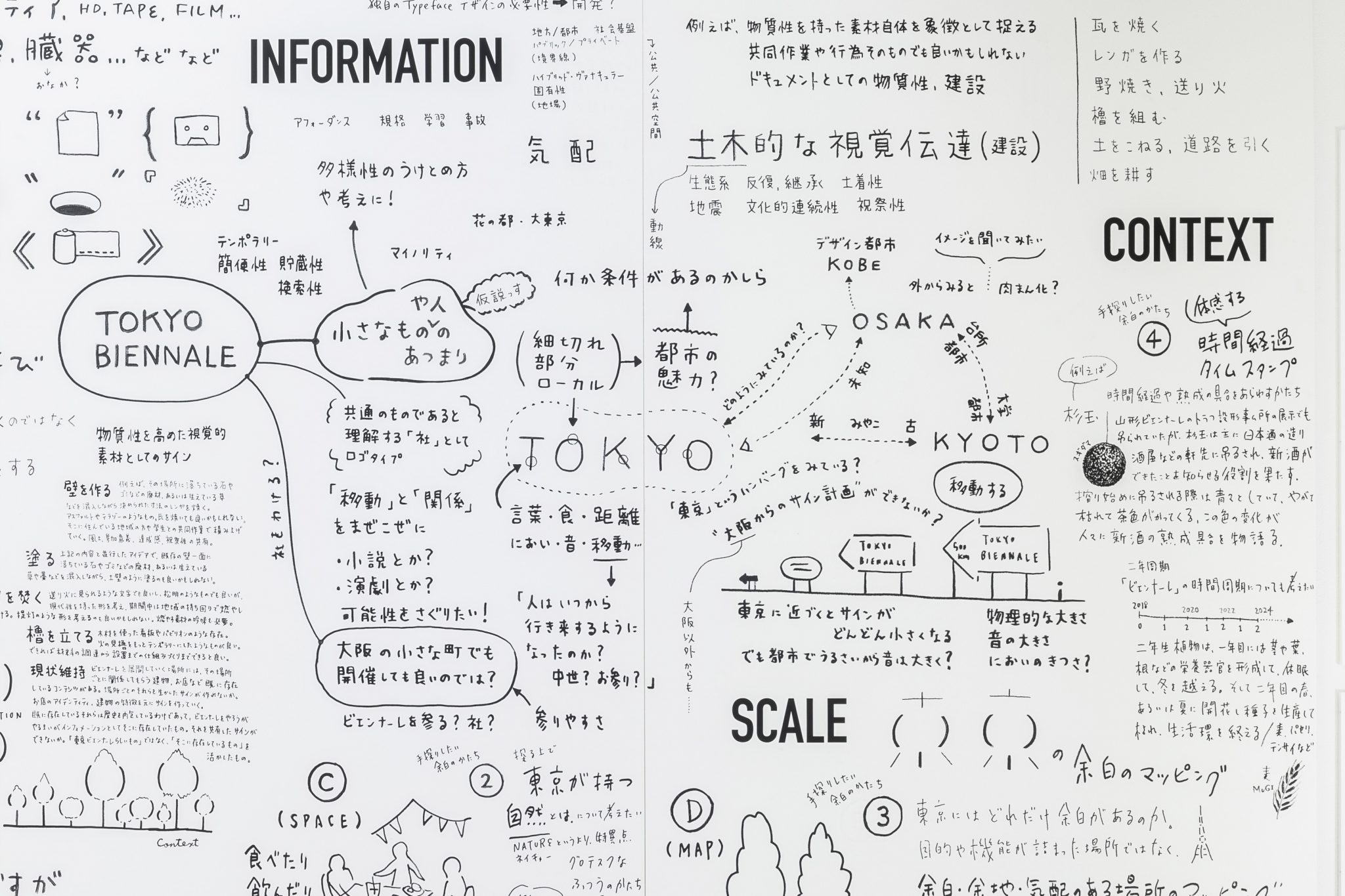 ---
EVENT
2018/10/13
"The Locality, Atmosphere, and Design of Tokyo" (This event has ended)
Daijiro Ohara x Yurio Seki x Yoshihisa Tanaka x Yuma Harada x Naoki Sato

PROJECT MEMBERS
Daijiro Ohara (Graphic Designer)
Born in 1978 in Kanagawa Pref. Through graphic design, music, exhibitions, and workshops, creates projects that search out new perceptions of words and text. Recent projects include a mobile typography focused on gravity, "Mojyuryoku"; continuous graphic works, "Ridgeline"("Ryosen"), based on reused hiking maps and mountain photography by Takashi Homma; collaboration between musician, Shuta Hasunuma, and rapper, Illreme, on speech descriptor "TypogRAPy"; and the development of live printing and drawings with Masatomo Yoshizawa (YOUR SONG IS GOOD) through an instantaneous printing session "New co." Has received awards including JAGDA emerging designer award and The Tokyo TDC Award.
oharadaijiro.com
Yurio Seki (Designer)
Starting activity through "Salvia" in 2000, Yurio Seki is a designer that practices "good old" Japanese traditions, which are then incorporated into creating things for contempoarary life. Studying textile in Sweden for a year in 2009, upon her return to Japan has held workshops and other events in her atlier in Kuramae, Tokyo. Not only designing for books and magazines, textiles and spaces, she also designs maps as a concept for town-planning including "monthly kuramae map", "Shibuya child-raising map", "Wakayama・Merumikawa strolling map", and has held "making town-planning map workshop". Currently she is focused on raising her children.
salvia.jp
Yoshihisa Tanaka (Graphic Designer/Artist)
Practices design with a critical stance, based on the concept of building cultural value. Main job positions include VI planning for cultural institutions such as the Tokyo Photographic Art Museum, joint management of book shop "POST" and publishing company "CASE", as well as art direction of "The Tokyo Art Book Fair" and "Takeo Paper Show". Yoshihisa Tanaka is also active as artist duo "Nerhol" with Ryuta Iida (sculptor), and has exhibited in "Index" at Foam Photography Museum (The Netherlands), "Promenade" at 21st Century Museum of Contemporary Art, Kanazawa, and "Interview, Portrait, House and Room" Youngeun Museum Contemporary Art (South Korea).
Yuma Harada (Designer)
Born in 1979 in Osaka and now serves as director of UMA/design farm. Based in Osaka, focuses on projects dealing with culture and social welfare through graphics, books, spaces, exhibitions, and project planning, in order to create new experiences through visual concepts. Develops design that repeats the process of dialogue and experimentation, holding the core value of "thinking together and creating together". In addition, holds the position as director of DESIGNEAST and "Shodojima・Hishio no sato+Sakateko" project. Serves as committee judge for Good Design Award and visiting professor of Kyoto University of Art & Design Spatial Design Department. His pet dog's name is Wakame.
www.umamu.jp