"Cypher" is a gathering of dancers and DJs in Tokyo Dome City on October 8. This event is free of charge and open to the public to participate to any extent, such as by watching, listening, dancing, and/or socializing. The gathering will be documented and exhibited after October 11 at the Etoile Kaito Living Building.
The cypher (whose etymology is said to derive from the Arabic symbol for zero) is the circle formed by the participants standing together to enclose and witness one another, in turns, freestyling in the center. To cypher is to commune with those who share esoteric practices; to discover, reveal, or interpret—as in "decipher"—the coded transmissions that come through the dancer like a spirit through the medium. To cypher is to be simultaneously the audience, the artist, and the artwork itself—not a performance, but a continuous free flow of extemporaneous exchanges contained within and by a mass that is in constant states of flux, held together and guided by the unspoken agreement that all who are present are a part of and are responsible for holding the space and keeping it alive.
For dancer-artist My-Linh Le, cyphers are makeshift sites of belonging and co-creation, wherein the highest forms of "time-based," "participatory," "site-specific," "interactive," "immersive," "interventionist," "relational," "socially engaged" art are often made. Cyphers (and the cultural movements that gave rise to them, including hip hop as the most visible), predate all of these celebrated genres of contemporary art, yet continue to be excluded from the very same.

Date/Time: 2023.10.8 (Sun) 14:00–18:00
Venue: In front of Gate 22, Tokyo Dome (1-3-61 Koraku, Bunkyo-ku)
Participation free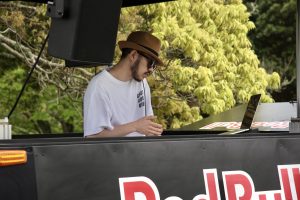 DJs: Jaylen Shaw, MASTER HERO
Prescription for Tokyo
Prescription for Tokyo is a Linkage comprising invited artists who are deepening their efforts in each respective themes. They will present a perspective or framing of Tokyo based on their own worldview through their works. The project will be held at various venues in Tokyo, and will be implemented as a connected project for Tokyo that will become cultural "prescription" for society's recovery, overcoming various divisions that stretch across the world today.