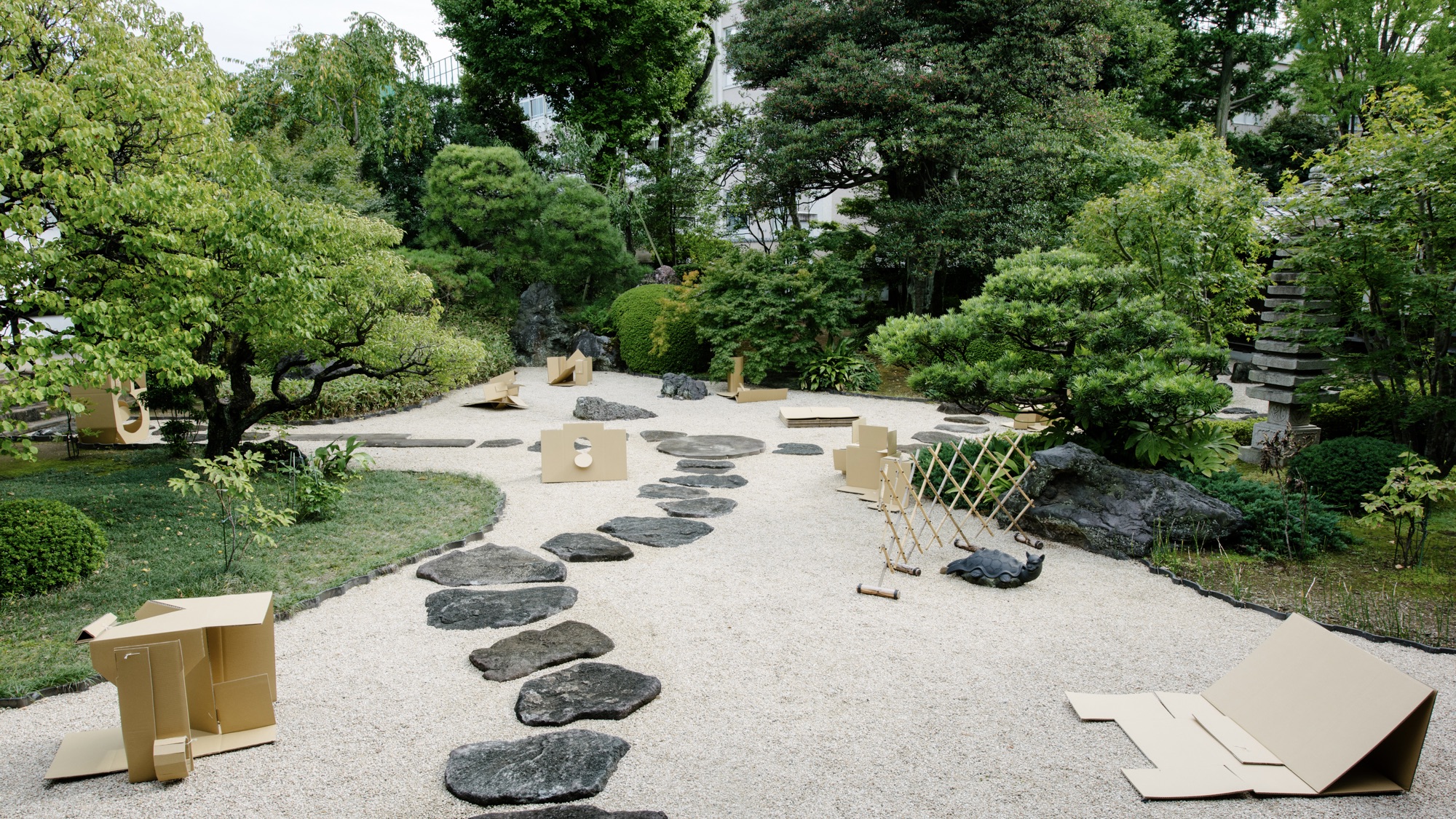 Katsuhiko Hibino, ALL TOGETHER NOW (Transforming box series), 2022. Installation view at "Tokyo Biennale 2023 Beginning Exhibition," Toeizan Kan'ei-ji, Tokyo, 2022. Photo by Yuka Ikenoya (Yukai)
11.5 (Sun)  13:00–15:00
Meet in front of the Konpon-chudo Hall, Toeizan Kan'ei-ji(1-14-11 Uenosakuragi, Taito-ku)
¥3,000
Capacity: 15 people
How to apply: Please click the button below.
*This tour will be held in Japanese.
This tour will visit several Linkages (projects) exhibited at the Toeizan Kan'ei-ji Temple venue of Tokyo Biennale 2023 with Ryogaku Ishikawa, steward of the temple, and Masato Nakamura, general director of the Tokyo Biennale.

Toeizan Kan'ei-ji was built in 1625 on an elevated area in Ueno, located to the northeast of Edo Castle, to pray for the safety of the Tokugawa Shogunate and the peace of all people. The 400th anniversary of the temple's construction will soon be celebrated in 2025. On this occasion, the temple aims to fulfill its role as an open temple, and collaborates with Tokyo Biennale 2023.
Tour Details (tentative)
 

START: Meet in front of the Konpon-chudo Hall, Kan'ei-ji

 

 

Konpon-chudo Hall

 

Front yard of Shibusawa Family Reido

 

Noble room

 

In front of the Jokenin Reibyo Chokugakumon

 

END: Dismissal on site
Guides
Ryogaku Ishikawa (Steward of Toeizan Kan'ei-ji)

Born 1979 in Kawagoe, Saitama Prefecture. Entered Kan'ei-ji in 2004 and appointed abbot of Tokakuin temple in Kan'eiji.the in 2012. Current position since 2013. His motto is "Live a life of reflection but without regret."

Masato Nakamura (Co-general Director of the Tokyo Biennale 2023)


Born 1963 in Odate City, Akita, Japan. Professor at Tokyo University of the Arts (Department of Painting). A socially aware artist pushing forth diverse art projects with focus on "art x community x industry." In the early 1990's, he set up guerilla art projects – "THE GINBURART" in Ginza and "Sinjuku Shonen Art" in Shinjuku's Kabukicho district (1993). From 1996 on, the artist caught global attention by transforming corporate identities into artworks, one major example being the McDonald's golden arches. In 1997, he formed an alternative artist initiative Command N. Activities of this group include the international video installation "Akihabara TV" held multiple years in 1999, 2000, and 2002. His work was displayed in the 49th Venice Biennale (2001) Japan Pavilion "First & Slow" exhibition. From 2004, he founded a number of art projects including "himming" in Himi (Toyama, Japan) and "ZERODATE" in Odate (Akita, Japan). Nakamura then founded 3331 Arts Chiyoda in June 2010 as an independent and sustainable art center. Through Command N and 3331, Nakamura has founded 10 art bases and held 740 art projects, in addition to overseeing close to 3,100 events with the collaboration of 2,000 artists, 180 core staff members, and 1,350 supporting staff/volunteers. He is the Co-general Director of the Tokyo Biennale 2020/2021 followed by the Tokyo Biennale 2023.
ALL TOGETHER NOW
Mirror Portrait – Lighting up a Corner
ECHO works
Prescription for Tokyo
Venue

Y

Yanaka・Uguisudani・Ueno・Okachimachi

Toeizan Kan'ei-ji Temple

1-14-11 Uenosakuragi, Taito-ku, Tokyo
Ticket

¥3,000
Capacity: 15 people